Photo by ACScottPhotography/DAMN
USC Football
Fall Camp Primer: USC Tight Ends
---
I think it's safe to define the 2018 USC Football season as a lost cause. You know what else was lost in 2018? The tight end group went missing in action. A complete ghost job, led by RS Senior, Daniel "Casper" Imatorbhrbhe, the recently graduated Tyler Petite, and the seldom seen duo of Josh Falo (Jr.) and Erik Krommenhoek (Jr.).
Imatorbhebhe looked like a future Mackey Award Candidate following the 2016 season, but was besieged by a thigh/groin injury that stole the 2017 and 2018 seasons away. To make matters worse, he was a no show this spring and unlike his brother Josh who used the transfer portal to transfer to Illinois, Daniel's whereabouts remain shrouded in mystery.
Will they reappear in 2019? Will offensive coordinator Graham Harrell use the seldom seen and used TE position thus utilizing another set of weapons in his vast arsenal? Can John Baxter coach the young men up? The answer to these questions is, the Trojans should hope so. At this point and until further notice, look for USC to be without Daniel Imatorbhebhe. The tight end group this fall will include Josh Falo, Erik Krommenhoek, freshman, Jude Wolfe who enrolled early and participated in spring ball, and fall enrollee Ethan Rae.
The Air Raid offense sounds scary to longtime USC fans that may have grown up on a steady diet of student-body right and student-body left. Let me set your minds at ease so you can stop white-knuckling the arm rests. The Air Raid offenses that you hear abuot today are all about making offensive reads easy so you can take what the defense gives you. In Harrell's Air Raid offense, the tight end is mostly lined up as an H-Back (off set and off the line of scrimmage), but you will also see 2-tight end sets. Both personnel packages force the defense into single coverage across the board. Advantage USC!
Josh Falo returns for his junior season and he'll be looking to keep his starting role this fall. Although his career numbers so far are a meager 14 catches for 223 yards (15.9 avg) with 2 TDs…and that was with him starting 10 games in 2018, with Falo's athleticism and 6-6, 230 pound frame, being put in one-on-one match ups in this offense should significantly increase those numbers.
After Falo, the tight end position gets a little murky. Like only one tight end with any experience is returning, murky. 6'-5" 260 pound junior Erik Krommenhoek returns, but his numbers are even thinner than Falo's.
Krommenhoek has four catches for 17 yards (4.3 avg) in his two-year career so far appearing in 26 games with three starts. At this point the best thing we can say is he's in the same boat as everyone else as he's learning the new offense so he has a chance to show out in fall camp.
And that brings us to the two freshmen. Jude Wolfe from local powerhouse, St. John Bosco arrived in January as an early enrollee and was involved in spring ball. This gives the 6-5, 250 pound young man a leg up on Ethan Rae, who joined the team this summer and is currently participating in the team player run practices.
Rae is from out Orange Luthern HS and another presence that should make for an easy target at 6-4 and 240 pounds. We expect both to contribute on special teams this year as they try and earn playing time on offense.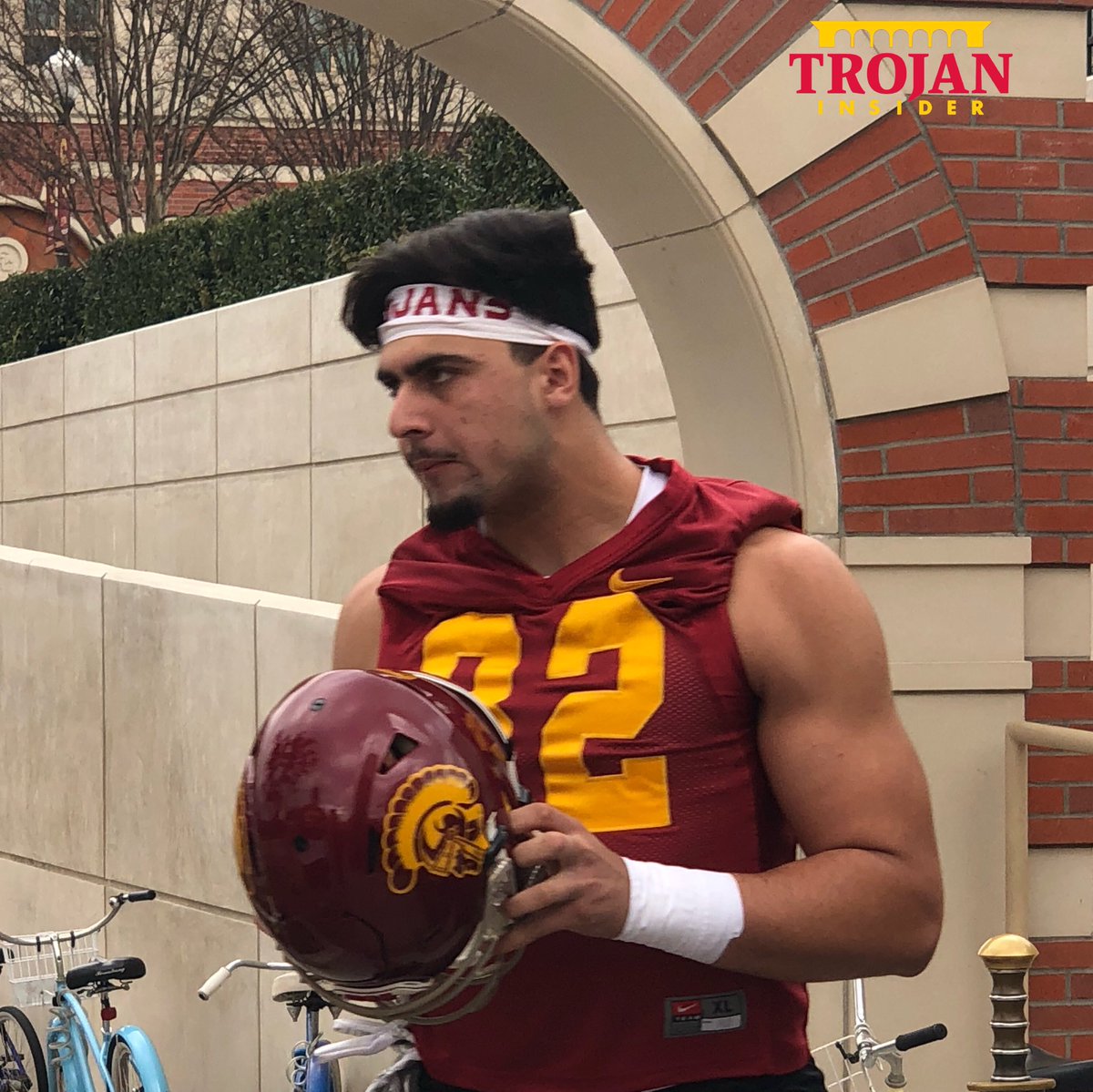 In case you glossed over it, USC's TE's stand at 6-6, 6-5, 6-5, and 6-4. If the tight ends can become an integral part of the offense that is set up to force one-on-one match ups, there is really nothing left to do for the opposition other than to pray when the Trojans raid thru the air.
Never miss the latest news from USC Scoop!
Join our free email list